Welocme to
Bhincher

India Tours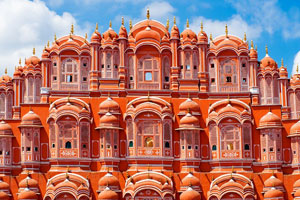 A varied topography, diverse culture, beautiful countryside and tranquil hills describe India the best. Part of the continent of Asia, India is one among the world's multidimensional places that is worth visiting for leisure. Host to around a billion population, India has a brilliant past replete with architectural edifices, forts and monuments. The shimmering backwaters of southern India, lip smacking north Indian cuisine and the Rajputana heritage can add to the fun of your India travel. Festivals, folk dance and ethnic ceremonies remain India's greatest draws. States like Goa, Maharashtra, Karnataka and Tamil Nadu are blessed with serene beaches while Taj Mahal , Khajuraho and Ajanta Ellora highlight their individual architectural glory. Experience the metropolitan culture during your Indian Holiday in Delhi, Mumbai, Chennai and Bangalore.
Appealing to honeymoon couples are the Himalayan hill stations, Kanchenjunga peaks, snowfall in Sikkim and ski resorts of Gulmarg and Auli. Andaman and Nicobar Islands enthrall nature and adventure sports lovers. Religion is the backbone to the socio-economic structure of Indian society and ancient Hindu shrines that are dotted all over Himachal Pradesh. This state in India is also an important pilgrimage center for Buddhists and Hindus. Outdoor sports have taken over places such as Naldehra, Shimla and Manali hills of Himachal Pradesh.

Another facet of Indian culture is observed in the colourful tribal lifestyles of the north eastern states of Nagaland, Mizoram, Tripura and Manipur with their folk culture. In the central Indian states of Orissa and Madhya Pradesh, tribal village life has resulted in a variety of artistically executed handicrafts. India's mountains provide heli skiing, river rafting, trekking and mountaineering.Its beaches provide lazy sunbathing as well as wind surfing and snorkeling, and its jungles provide shooting wildlife – with a camera. India's religious history goes hack to 3,200 BC when Hinduism was first founded. Buddhism, Jainism, Sikhism, Judaism. Zoroashtrianism, Christianity and Islam all exist within the country today.