Kashmir Honeymoon

Tour Package

Welcome to India, You will be received by our representative at international airport and assisted to your hotel. In the Hotel you will have a brief description of your tour and the representative will hand over your documents regarding the tour, Overnight in Hotel.
Destination:   Srinagar - Gulmarg - Somamarg - Pahalgam
Duration:   6 Days / 5 Nights
Day 01 :Srinagar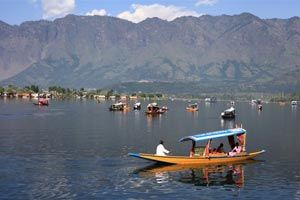 On the first day you arrive at the Srinagar Airport, where a travel agency representative guides to the resort or a houseboat, whatever you choose as your lodging. Later on in the day, you can take a long ride in the Shikara on ever beautiful Dal Lake. On your way visit places such as Bathing Boats, Char Chinar Island, Floating Gardens, Kabutarkhana, Floating Shops and other pictorial tourist spots. The best comparison of this picturesque scene one can have is with the Gondola rides in Venice.
Day 02 :Srinagar
On this day, after you finish your breakfast you can opt in for a city tour for half a day. Take a cab and visit places such as "shat Bagh", the popular Mughal Gardens, and "Shalimar Bagh". Post which you can head to the Shankaracharya Temple situated atop a hill and return back to the hotel in the evening.
Day 03 : Srinagar - Gulmarg - Srinagar
Post your breakfast you are taken to Gulmarg, where you have the liberty to explore the place all by yourself. You can take a cable car ride here or take pleasure in horse riding. In the evening you come back to Srinagar and stay the night in your hotel/ houseboat.
Day 04 :Srinagar - Sonmarg - Srinagar
As soon as you complete your breakfast you make a move to Sonmarg and explore the breathtaking locales around. On your way you can pause at certain scenic spots and then continue driving to Sonar, also called the Meadow of Gold. You can take a look at the Thajiwas Glacier and take pictures if you want to. After you are done with the Sonmarg expedition you can drive back to Srinagar in the evening and return to your hotel/houseboat.
Day 05 :Srinagar - Pahalgam - Srinagar
On this day as you are done with your breakfast, you can visit Pahalgam also called the Vale of Kashmir. On you way take a pause and visit the Avantipur ruin, that once was a temple and the Saffron Fields. Pahalgam is a spot where the Indian Film Industry had pasteurized several films. You return to Srinagar in the evening.
Day 06 :Srinagar
This is the last day of your trip when you check out of the houseboat/hotel post your breakfast and make way to the Srinagar Airport and board your flight back to your destination.